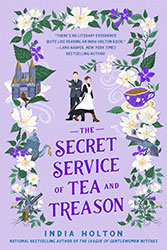 Dangerous Damsels Series Bk 3
A party of swashbuckingly evil pirates. Two rival spies. One fake marriage. What could possibly go wrong . . . Find out in the riotously funny and joyfully romantic third book in The Dangerous Damsels collection
When rumours circulate that a group of dastardly pirates plan to assassinate the Queen, Alice is immediately assigned to the case.
However she won't be working alone.
Enter Daniel Bixby. Unflappable master spy and Alice's greatest rival.
Together they must assume the identity of husband and wife in order to infiltrate a perilous pirate party.
Alice is determined to remain professional. This is work after all. But when an attraction starts to grow there may be more at stake than just the throne . . .
Categories: Fantasy
Reading age: Y.A. and Adult
RRP: Paperback NZ$26.00
Published in NZ by Penguin Random House New Zealand