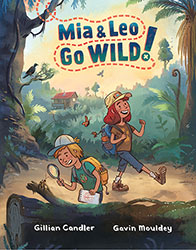 Mia and Leo's first overnight tramp is a great success, despite Mia's misgivings that younger brother Leo will be too slow. On the way to Whiowhio Hut, however, they meet other trampers, all of who have a problem with either their preparation or gear. As Mia and Leo's family are well prepared they are able to help the other trampers.
Award-winning author of nature books for children, Gillian Candler, teams up with illustrator Gavin Mouldey and the Mountain Safety Council to create this entertaining and informative story.
Categories: Early to mid-primary picture-books, New Zealand Children's Books, Health & Safety, Tramping and Camping, Outdoor Adventure skills.
Reading Age: 5 to 10 years

RRP: Paperback picture-book NZ$24.99
Published in NZ by Potton and Burton in conjunction with The Mountain Safety Council.