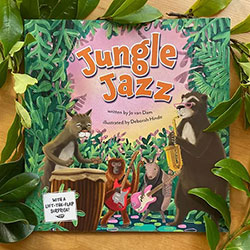 Fans of Jo van Dam's previous picture-books will be pleased to see a new title added to her stable.
Moonlighting as a primary school librarian when she's not writing, Jo knows what makes books appeal to young readers (that's why she's been a finalist for the Children Choice Award at the New Zealand Book Awards for Children and Young People).
Jungle Jazz does not disappoint. With its rollicking upbeat tone and funky sounds, young readers will be in stitches as they watch snake – envious as he watches the band play – search for a way to join in.
But what can snake do? He can't sing along to a tune or a song. He can't even hum, or bang on a drum! And when he does find a solution to his problem, is it the right one?
A fun-filled story about longing and belonging, the joy of music and the greater joy of friendship.
The added bonus of a Snakes and Ladders game in the back cover is sure to be a winner!
Categories: Early Learners, Picture-Books, New Zealand Children's Books
Reading Age: 4 to 7 years

RRP: Paperback picture-book NZ$21.99
Published in NZ by PictureBook Publishing