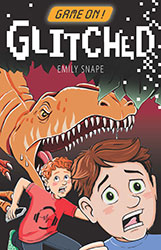 When Max's rebellious younger brother Liam starts playing 'Glitched' on Miss McBoob's phone, the app transports the two brothers through time to different versions of their home town. To return to their own time, Max and Liam must dodge many historical dangers and photograph some historical artefacts — before the phone battery runs out!
The second book in this brilliant new middle grade series perfect for reluctant readers, particularly boys.
Teachers resources:
· Sensitively depicts sibling relationships and the themes of self-belief and forgiveness.
· Aimed at 8–12-year-olds who love adventure, comedy, fantasy and a twisting plot.
· Packed with historical facts.
· Delightful illustrations by the author add to the fun.
Categories: For reluctant readers, Humour, Family and Friendships, Fantasy and History

Reading Age: 9 to 13 years
RRP: Paperback NZ$16.99
Imprint EK Books published in NZ by Exisle Publishing.