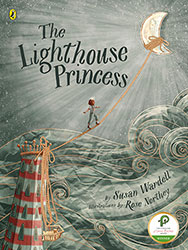 The 2021 Storylines Gavin Bishop Award-winning picture book is a delightful contemporary fairytale about an independent princess, who looks after a very special lighthouse lamp, fishes off the balcony and goes swimming with seals.
The Lighthouse Princess is almost perfectly happy. She takes care of the light that keeps ships at sea safe, catches fish off the balcony and swims with penguins and seals.
But one day, a little fishing boat with green sails sets out just as a storm blows up…
Poet Susan Wardell's debut picture book is a celebration of independence and friendship, with magical and award-winning illustrations by Rose Northey, recipient of the Storylines Gavin Bishop Award 2021.
Reading Age: 5 to 7 years
RRP: Picture book paperback NZ$19.99
A Puffin Book – Penguin Random House New Zealand