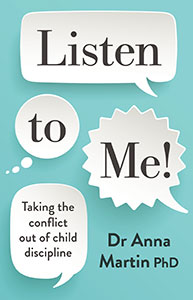 A new inclusive and effective approach to parenting, and discipline methods that really work, from trained specialist and clinical therapist Dr Anna Martin.
Are you confused by all the different parenting advice on how to discipline your child? Have you been trying a variety of different methods for years that don't really work or feel uncomfortable to use – or are you just starting out on the parenting journey and want sound information?
Regardless of your situation, you might find it helpful to change the way you think about discipline altogether.
Using research and knowledge, Dr Anna Martin has turned traditional methods on their head to come up with effective strategies that put listening and the wellbeing of children before lecturing. Whether your child is 2 or 22, the clear step-by-step methods in Listen to Me! are all you need to minimise conflict in the family and encourage a secure relationship between you and your child.
Reading age: Adult
RRP:30.00
Published in New Zealand by Penguin Random House NZ.