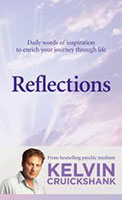 A quote a day for a year from bestselling psychic medium Kelvin Cruickshank.
Daily life is full of challenges, but with the power of a positive attitude it's amazing how much you can overcome and achieve. Psychic medium Kelvin Cruickshank shares 365 inspiring thoughts – one for every day of the year. There are words to motivate you when life's obstacles seem overwhelming and others to provide comfort in times of loss or sorrow. Mostly, Kelvin's reflections are a reminder that our time on Earth is precious and it is how we embrace the journey that makes the difference.
'Acceptance is one of the most important lessons we must learn in our time on this earth.
Life's far too short to dwell on what we cannot change.'
Reading Age: Adult
RRP: Paperback NZ$19.99
Publisher: Penguin Random House New Zealand