Why did the Mayor of Honghu, a Chinese City the size of Christchurch recently visit Canterbury asking about Rewi Alley's early life here?
Why did a writer of Rewi's exploits write: "It's like squeezing water out of a stone", when trying to ask Rewi what he did in Honghu?
Why would Rewi take leave from his full-time work to become a volunteer representative of the League of Nations for a Chinese Province, Hubei, the size of Great Britain?
Why has Honghu, the city he visited then, decree the small accommodation building that he spent seven nights during his leave, a "cultural" relic for protection for all time for what Rewi did during those few days?
Could one man truly be responsible for saving the lives of hundreds of thousands in those seven days? How could that be possible? Why would Rewi not talk about it?
Rewi Alley's legacy
The legend and legacy of the man who is possibly one of New Zealand's greatest sons, continues to grow as more monuments, museums and statues are erected today to him in different parts of China, including one featuring the father of China's current President. A Rewi Alley family tour recently visited some parts of China that Rewi worked in. They were blown away by the depth of feeling shown to them and to Rewi 's legacy in different regions and for different reasons.
Here in New Zealand, we know of Rewi for some of his momentous works, but why is it that in China they know him for reasons totally different which we hardly know about. The big questions are – how can we encourage the students of today to research and study what Rewi did and so understand his story together with the legacy he has left? How can we keep this legacy alive both to understand his place in the relations between our two countries and as a model fighter for human rights and for the dignity of all human kind?
Units of learning and free trips to China
The Rewi Alley Anniversary Commemorations Committee in Canterbury has this year developed three Units of Learning for History and Social Studies students to encourage such study. They have also arranged a competition for Canterbury schools with free trips to China for two students and a guardian each as prizes to give those students a glimpse of Rewi's legacy.
Details of the NCEA Units can be found on the History Teachers' site  http://www.nzta.org.nz/ & on the Anniversary Commemorations site  http://www.rewialley.kiwi.nz .
The competition details and entry forms are also to be found on http://rewialley.kiwi.nz/activities/schools-competition
Entries close at the end of September and the results will be celebrated as part of the Rewi Alley Anniversary Commemorations near the end of this year.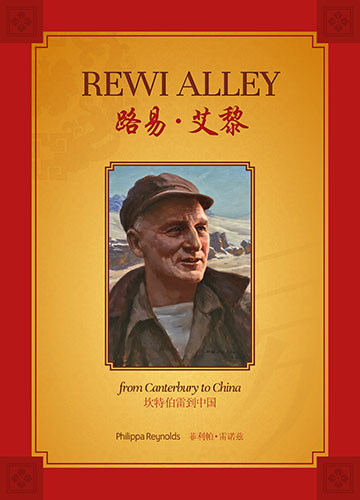 Rewi Alley's Biography; order your copy now!
Rewi Alley from Canterbury to China by Philippa Reynolds
The fascinating story of Rewi Alley from his birth in 1897 at Springfield Canterbury, his family background, his schooling in Amberley and Christchurch, his exploits in WW I, his farming venture and subsequent travel to Shanghai. It describes the rest of Rewi's life that he spent in China with only brief and infrequent trips back to New Zealand: a life spend in the pursuit of contributing to China's growth, from his work during WW II, establishing a technical school on the edge of the Gobi Desert, the Gung Ho movement, and latterly his time in Beijing, all of which were material in forging friendly relations between China and New Zealand. His story is entwined with the history of New Zealand's relations with China in the twentieth century. It is a story told from his family's perspective by those who knew him all his life.
Fill out the form here then email to bookorders@rewialley.kiwi.nz