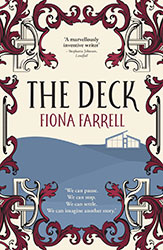 A novel about telling stories in a time of change.
What is the point of inventing stories when reality eclipses imagination?
A little way off in the future, during a time of plague and profound social collapse, a group of friends escapes to a house in the country where they entertain themselves by playing music, eating, drinking and telling stories about their lives. There are tales of thieves and pirates, deaths and a surprise birth, a freak wave and many other stories of misadventure resulting in unexpected felicity.
The Deck borrows the motifs of Giovanni Boccaccio's 14th-century masterpiece, The Decameron, in which another small group gathered to avoid contagion and passed the time telling stories. But what is the role of fiction, this novel asks, as civilisation falters?
Categories: Contemporary fiction
Reading Age: Adult
RRP: Paperback NZ$37.00
Imprint: RHNZ Vintage and published in NZ by Penguin Random House New Zealand