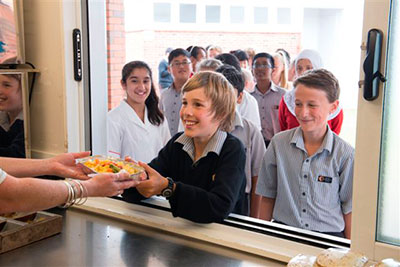 It can be a real challenge for school canteens to create healthy menu items that are also exciting, tasty and appeal to children. Sadly, the highest-selling products in a school canteen are often the least healthy. So how can you promote and boost sales of 'everyday' choices?
Marketing is a tool that has been effectively used to influence consumers' choice when it comes to purchasing and consuming food and beverages. However, it is rarely used in canteens or tuck shops.
To successfully implement changes in the school nutrition environment, it is best if the students and wider school community are involved. Marketing and promotion of 'everyday' foods from the school canteen can contribute to the success of these changes. Student involvement in the promotion of 'everyday' foods is essential. Use student innovation to promote these foods, after all, they know the target audience best.
Not all young people care so much about being healthy however, they do care about how food looks or tastes, what it costs, and its associated image. These are some factors to consider when promoting 'everyday' foods.  Remember food presentation is an important factor. Colour, flavour and temperature all greatly influence food choice.  If food looks, smells and tastes great students are more likely to try it and keep buying it!
Low cost (or no cost) simple marketing techniques can be used in the school environment to increase healthier food choices and healthier eating.
Below are some ideas on how to increase your marketing of healthier foods. Classroom involvement is also key, so encourage your children to come up with their own attractive names.
Naming and displaying names of vegetables, such as "X-ray Vision Carrots".
Moving fruit to the front counter near the cash register.
Placing plain water and milk at the front of the fridges.
Creating a "healthy choices only" convenience line.
Pre-order lunches early in the day or the day before.
Calling smoothies "monster juice".
Naming broccoli as "baby trees".
Referring to plain milk as delicious.
Renaming the Banana Toastie recipe as "Monkey Bread".
How can Fuelled4life help you?
Fuelled4life has plenty of resources to help make healthy food exciting. For more attractive ways to package healthier food items, check out our creative packaging ideas resource. Fuelled4life and Vegetables.co.nz have produced a number of cooking videos which offer fun ideas like Baked kumara snake and Courgette marbles.
Fuelled4life is based on the Ministry of Health's Food and Beverage Classification System (FBCS). It's a free, practical tool which helps schools provide healthier foods. It aims to increase access for young people to healthier food and beverages, and to inspire food services to provide tasty, nutritious products.
Everyday foods and drinks are lower in energy, fat, sugar and salt so are appropriate for everyday consumption.
Sometimes foods and drinks are still good choices but are a bit higher in energy, saturated fat and salt and so should be eaten in moderation. 'Sometimes' foods and drinks should not dominate the choices available.
Sign up to Fuelled4life
One in three Kiwi kids is overweight or obese, but you can help change that.
If you are a teacher, principal, canteen manager, caterer or cook and would like to see your school offering healthier food and beverages, here's what to do:
Sign up to Fuelled4life for loads of free resources to help you choose healthier options.
You'll also get free access to the Fuelled4life website and newsletter with tips, recipes, special deals and information on ways to improve nutrition in your school.
For more information or one-to-one nutrition support, please contact the Fuelled4life team on 09 526 8550, email fuelled4life@heartfoundation.org.nz or go to www.fuelled4life.org.nz