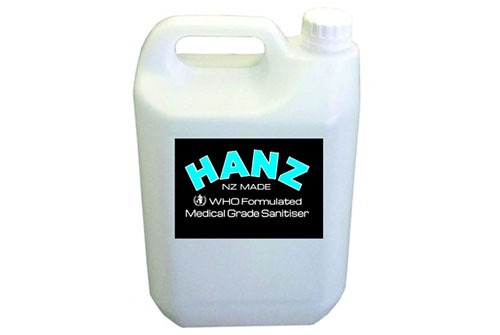 Over the past couple of months it has been drummed into the citizens of the world that hand cleanliness is the only real preventive weapon we currently have against COVID19.  Soap and water may not be readily available in many environments especially in many classrooms or teaching areas so hand sanitiser is the next best alternative.
However this handy tool comes with it's own drawbacks not least of which chemicals that are used to manufacture most hand sanitisers.
Waimauku Pharmacist, Robbie Hannon the maker of HANZ hand sanitiser states that it is important use a product that is safe to use on the hands. Most importantly that it is effective on destroying viruses (COVID19) and bacteria but does not leave any potentially toxic residues on the hands and can be used with an assurance of safety especially around children.  Robbie is particularly concerned about the amount of product being applied especially to children's hands without consideration of the downstream consequences. Surely we should use only a hand sanitiser that has been proven safe especially on children's hands.
ALL hand sanitisers should accurately state ALL ingredients on the label. Many imported versions do not have adequate information included on the label regarding contents and even effectiveness.
HANZ medical grade sanitiser is made right here in NZ from quality ingredients, containing only chemicals known to be safe and leaves absolutely no residue after air drying.
HANZ formula is 75% Isopropyl Alcohol as recommended by the World Health Organisation (WHO)
"Alcohol handrubs are the only known means for rapidly and effectively inactivating a wide array of harmful microorganisms on hands"  WHO Guidelines on Hand Hygiene in Health Care (2009)
HANZ is safe for the environment and is non-allergenic containing no ingredients other than specified below.
There are no additions of gelling agents which may compromise antimicrobial efficacy (WHO)
No addition of fragrances due to risk of allergic reactions (WHO)
HANZ is safe to use in food environments as well as on hands as no residues are left on hands or surfaces and will not taint food prepared on surfaces or eaten out of hands
To sum up
HANZ Sanitiser is NZ Made from quality ingredients
Effective as it wets and breaks down cell walls of viruses, bacteria, spores, thus killing them.
Efficient with better coverage of entire hands with simple technique, leaving no untreated areas and dries quickly thereby efficiently killing any viruses or bacteria that may be present.
HANZ – leaves no residues that could cause toxicity, allergic reactions.
HANZ Medical Grade Hand Sanitiser contains only the following quality ingredients:
Isopropyl Alcohol 75%
Hydrogen Peroxide 0.125%
Glycerine 1.45%
Comments from a user:
"Hanz is light and quickly absorbable, leaving no sticky residue or lingering smell. I have sensitive skin and HANZ has no adverse effect on me therefore I can thoroughly recommend HANZ as the most natural alternative to soap and water." Ann Polaschek, General Manager, Tomorrow's Schools Today.
If you are wanting to order the safest and most effective hand sanitiser for your school or need more information:
Visit www.hanz.nz or email info@hanz.nz