Cinnamon flavoured onions on toast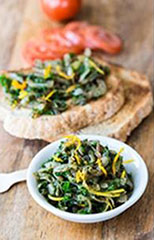 Serves 2-3
1 Tbsp canola oil
2 onions, finely sliced
½ tsp cinnamon
½ tsp harissa paste [Available from theMediterranean section of most supermarkets or see the recipe below]
½ lemon, juice and zest of
small bunch coriander or parsley, roughly chopped
Heat the oil in a heavy-based frying pan, add onions and fry until golden.
Turn up the heat and brown them quickly so that some of the onions become crisp.
Add the cinnamon, harissa, lemon juice and herbs. Cook for a further minute.
Garnish with lemon zest and serve with toast or crackers.
Harissa Paste – Makes a small jar you can store in fridge and use over a couple of months.
Ingredients
• 1 chargrilled capsicum (I used the kind that come in a jar or you can chargrill one yourself)
• 1 tsp coriander seeds
• 1 tsp caraway seeds
• 1 tsp chilli flakes
• 1 tsp smoked paprika
• 2 tsp cumin seeds
• 1/2 tsp salt
• 1 tbsp tomato paste
• 4 tbsp extra virgin olive oil or vegetable oil of your choice
Instructions
1. Dry toast the coriander, caraway and cumin seeds one type of seed at a time until fragrant by heating a small frypan to a medium heat, adding one lot of seeds and stirring them around for a minute or two, tipping them out then doing the next lot.
2. Grind the seeds in a mortar and pestle, or a coffee grinder. If you don't have either you can use them whole, there'll just be more texture to your harissa.
3. Put all ingredients into a blender or food processor, or container to use with a stick (immersion) blender. I made mine with a stick blender.
4. Blend until fairly smooth, taste and adjust seasoning or heat as you like.
5. Scrape harissa into a clean jar or sealed container and store in the fridge. If you pour a thin layer of oil over the surface it will help extend its shelf life. (Mine is always gone within a week).
6. Makes one small jarful, approximately 1 cup.
All Recipes on this page are supplied
by Pip Duncan
Food, Food Safety & Nutrition Consultant
For more of Pip's recipes visit www.choice.co.nz/recipes