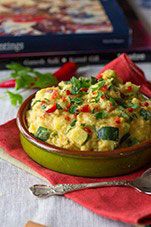 Courgettes and Marrows are still in plentiful supply so why not make this one pot and economical Channa Dahl and serve up for a warming autumn meal.
Serves 4 – Preparation soak the dahl for 3 to 4 hours.
Cooking and preparation then takes only 25 to 30 minutes.
250g dahl
20 ml canola oil
1 red chilli, deseeded and chopped
1 green chilli, deseeded and chopped
1 tsp cumin seeds
2 cloves
2 cinnamon sticks
2 cloves garlic, chopped
1 tsp finely chopped fresh ginger
2 tsp lemon juice
4 courgettes, diced or 1 Indian marrow
chopped coriander, for garnish
finely chopped red capsicum, for garnish
Soak dahl in 200 ml warm water for 3-4 hours.
Heat 500 ml of water, add dahl and boil until just tender.
In a saucepan add the oil, chillies, cumin, cloves, cinnamon, garlic, ginger and lemon juice.
Cook for 3-4 minutes, add dahl, then cook for 10 minutes, stirring occasionally.
Add warm water as necessary to stop the dahl sticking.
Add diced courgette and cook until dahl and courgettes are cooked. Add more water if required. Remove cloves and cinnamon sticks.
Serve garnished with coriander and capsicum.
All Recipes on this page are supplied
by Pip Duncan
Food, Food Safety & Nutrition Consultant
For more of Pip's recipes visit www.choice.co.nz/recipes