A Delicious Dessert for Christmas that is so simple to make.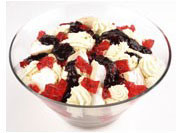 Ingredients
The original dessert is said to originate from Eton School in England.
1 packet raspberry or strawberry jelly,
300ml whipped cream.
4-6 individual Pavlovas, cut into eight chunks.
1½ cups berry dessert sauce. (Available in the jar in supermarkets I like using Barkers NZ version).OR if you want to spend a bit more time make your own berry dish sprinkle any berries with sweet wine or cherry liqueur or any fruity liqueur plus a little icing sugar and leave in fridge for an hour before using.
Whichever fruit option you choose combine all the ingredients in a bowl and leave for 1-2 hours in the fridge before serving.
Tips for a great dessert:
* Make a berry jelly following the packet instructions, using half the amount of water. Leave to set in a shallow container and dice when set.
* Purchase individual pavlovas from the supermarket and cut into 8 chunks.
All Recipes on this page are supplied
by Pip Duncan
Food, Food Safety & Nutrition Consultant
For more of Pip's recipes visit www.choice.co.nz/recipes