Following on from my last article about when and how to use green manure crops here is a list of the most common varieties and their uses: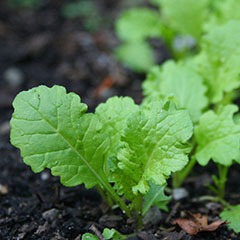 Mustard Seed
Sow this thickly because you can thin out the seedlings and use them to give a peppery taste to your salads, soups and sandwiches.
Attractive flowers appear at about 20cm so leave a few to attract the bees and other pollinating insects to your garden.  Always dig the plants in before they go to seed.
If you have chickens and no other crops close by let the chickens free range on this nutrient rich winter crop.
Lupins
If you need to add nitrogen to your soil then Lupins are great as they store nitrogen in small white nodules around their roots so once these have formed and the plants are flowering dig them in. Once the roots and nodules start rotting down the nitrogen is released into the soil.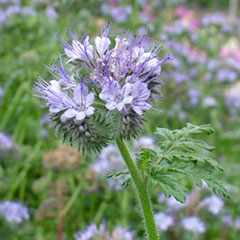 Phacelia
One of the best green manure crops and the pretty purple flowers attract all manner of pollinating insects. This crop does self seed but does not invade your garden so you can let it go to seed or let grow wherever it appears as it is easy to pull out and use as a mulch around vegetable plants.
Oats
If planting a green crop in late autumn in southern regions then Oats are the best as they act as a fast growing ground cover and break down quickly when dug back into the soil.
Broad Beans
This is a great winter vegetable crop and once the beans have been harvested chop up the sturdy stalks into 10cm to 20cm pieces and simply leave on the surface which will add nitrogen back into the soil.
Note after adding nitrogen rich green manure plants such as Lupins and Broad Beans you can then use the same area of ground for nitrogen hungry crops such as all brassicas i.e. Cabbage, Cauliflower, Broccoli, Kale, Silver beet and Spinach. Also the Broad Bean plant stems lying on top of the ground will protect your brassica seedlings from winter hungry birds.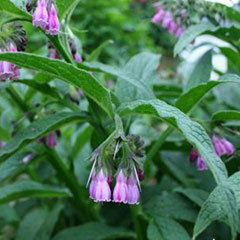 Comfrey
This is a wonder herb and a great plant food breaking down quickly. This is a plant best planted in spring but think carefully where you want it to grow because once planted it is in that area for good. Select an area for your comfrey where it will not overtake other plants.
Comfrey has the same chemical properties as pure compost so you can use it to make fertiliser teas, wrap your seedling spuds in it before planting, throw the leaves into your compost pile to act as an accelerator. Use the leaves as mulch around fruit trees and actually plant comfrey near your fruit trees because pollinating insects just love its purple flowers.
Use the leaves as green mulch under and around your vegetables.
Note avoid leaving the stalks, seeds or the roots of Comfrey on ground that you want to use for something else because if given half a chance comfrey stalks will grow roots and establish themselves anywhere. To slow Comfrey down compact the ground near it because comfrey just loves to grow in well dug soil.   Use Comfrey as a weed deterrent planting along fence lines to discourage twitch, couch and kikuyu grasses.
Chickens:
Plant comfrey along the outside of the chicken run so the chickens can peck at it through the wire without destroying the plants.
Happy Easter Gardening, I'll be back in Term 2 with winter projects for both your students and your family.
The Kitchen Garden Gnome