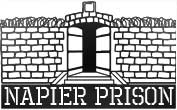 Historic and Ghost Tours in NZ's Oldest Prison
We can provide 1 hour guided group tours of the prison to suit your age group. Alternatively, we run a 2-hour Junior Programme featuring an historical tour, scavenger hunt, fingerprinting and games. Children can enter the cells, visit the hanging yard and hear about the secret tunnel, ghosts and lighthouse. Seated areas are provided for morning tea or lunch. Excellent for exchange students or students studying other languages are our audio tours in 15 different languages.
Napier Prison is just a few minutes walk to the town centre and Marine Parade.
Self-guided audio tours are available every day.
To book your school group tour
P: 06 835 9933