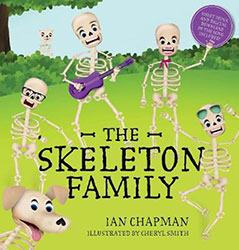 A book with an important message; suitable for early primary and includes sheet music plus a musical download perfect for a class sing along.
Although they are different in that they have no skin 'The Skeleton Family' are just like everyone else.  Skelly-mum is an artist who paints beautiful pictures, Skelly-dad is popular at parties because he plays the guitar, their daughter Maia is at high school and she loves gymnastics while her younger brother Orio is an aspiring YouTuber. They're so normal they even have a cat called Baxter and a dog called Spanky.
While this book is gorgeously illustrated and fun to read, The Skeleton Family brings home the message that it's wrong to judge people just on how they look, and that all people are fundamentally the same.
The book also contains the musical score for the catchy song The Skeleton Family sing to their new neighbours, making it perfect for school classes to learn and sing. A QR code is included to link readers to a website where Ian has a recording of the song so everyone can listen to the song!
Reading Age: 5 to 8 years
RRP: Picture book paperback NZ$19.99
Published by Bateman Books NZ.