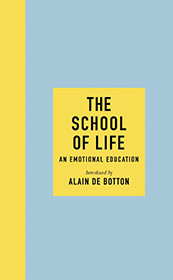 A tried-and-tested guide to living better – introduced and edited by the bestselling author of The Consolations of Philosophy and The Course of Love.
Emotional intelligence affects every aspect of the way we live, from romantic to professional relationships, from our inner resilience to our social success. It is the ultimate soft skill of the twenty-first century.
It is also the core focus area of the hugely successful School of Life organisation, founded and run by reigning master of popular philosophy, Alain de Botton. For ten years this organisation has offered practical guidance and wisdom, from a team of world class specialists, to ordinary people who want to live better. Now this extraordinary body of work is drawn together, shaped and introduced by de Botton himself, in an encyclopaedia of how we interact with each other and with ourselves, and how we can do so better.
Reading Age: 17 years to adult.
RRP: PaperbackNZ$38.00
Published in NZ by Penguin Random House New Zealand.