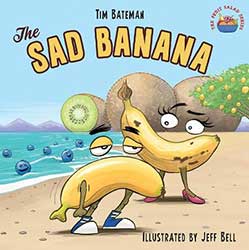 Bowie is a young banana who struggles to see the positive in any situation. With the help of his mum, Bowie searches for something to help him turn his frown upside down. Will Bowie ever discover the secret to happiness and learn how to be comfortable in his own skin?
The Sad Banana is part of the Fruit Salad Series, which teaches the importance of gratitude, self-acceptance and emotion regulation, with a focus on building resilience and positive self-esteem.
Categories: Children's Books, Children's New Zealand, New Zealand Kids.
Reading Age: 4 to 8 years

RRP: Paperback, picture book NZ$21.99
Published in NZ by Bateman Books