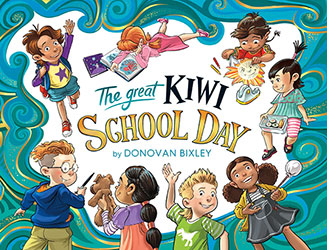 Starting school is a big step up. The Great Kiwi School Day familiarises children and their parents with the structure of the kiwi school day and puts them at ease with elements of the New Zealand curriculum:
What do you do at school?
Who will be there?
What will I learn?
What will my classroom be like?
Author and illustrator Donovan Bixley has visited hundreds of schools across Aotearoa and has created a friendly introduction to the kiwi school day, gently incorporating the values of the New Zealand school curriculum: excellence, diversity, teamwork, respect, curiosity, and te ao Māori.
Parents and children about to start school will recognise and identify with The Great Kiwi School Day, with the theme, 'school is fun'.
Categories: Early Learners, Picture-Books, New Zealand Children's Books, social Interaction, Mental Health, Parenting.

Reading Age: 3 to 6 years

RRP: Paperback picture-book NZ$19.99
Published in NZ by Upstart Press