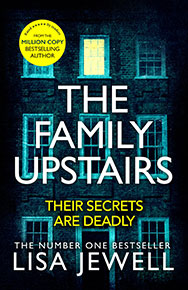 From the #1 Bestselling author of Then She Was Gone.
Book Type: Fiction Crime/Thriller
'The Family upstairs is a twisty and engrossing story of betrayal and redemption.' IAN RANKIN
In a large house in London's fashionable Chelsea, a baby is awake in her cot. Well-fed and cared for, she is happily waiting for someone to pick her up.
In the kitchen lie three decomposing corpses. Close to them is a hastily scrawled note.
They've been dead for several days.
Who has been looking after the baby?
And where did they go?
Two entangled families.
A house with the darkest of secrets.
A compulsive new thriller from Lisa Jewell.
Reading age: Adult
Book Type: Fiction Crime/Thriller
RRP: Paperback NZ$37.00
Published by Random House UK and distributed in NZ by Penguin Random House New Zealand.