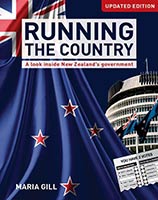 A look inside New Zealand's government – By Maria Gill Running the Country has been completely updated
to include a full overview of the 2017 election and explains in a very easy
and user-friendly style how MMP impacted the way our current Government was
formed.
Award winning New Zealand author Maria Gill invites young readers to
discover how New Zealand is run and why it is necessary to have laws.
Children will learn about how the government implements decisions about what
is best for the country, and how to accommodate people who have differing
views.
In simple accessible language Maria explains our system of government.
Discover facts about our laws, our currency and the role of the media. There
are fascinating profiles of New Zealand leaders including our new Prime
Minister Jacinda Ardern, all illustrated by cartoonist Malcom Evans, along
with photographs, intriguing statistics and useful 'google this' Internet
links to find out more. There is also a strong section on voting and the
electoral system to encourage children to understand about the importance of
their future vote Reading age: 9 to 13 years.
RRP: Glossy Paperback NZ$26.99
Publisher: New Holland Publishers New Zealand