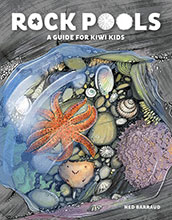 What New Zealand child is not delighted by a rockpool at low tide, with its colourful, fascinating array of creatures, some still, some flitting about?  Rock Pools is a book designed to enhance this experience, with each page presenting an intriguing glimpse into the creatures that inhabit these low-tide wonderlands.  All of the common creatures from New Zealand seashore, including crabs, sea anemones, starfish, barnacles and shrimps, and many more, feature in this fantastic book, which cannot help but delight and encourage children to interact with the natural world.  A stunningly illustrated guide to New Zealand's rock pools, for all kids aged 5-10 (and their parents).
Reading Age 6 to 9 years
RRP: Paperback NZ$19.99 or Hardcover NZ$29.99
Published in NZ by Potton and Burton New Zealand books at their best!