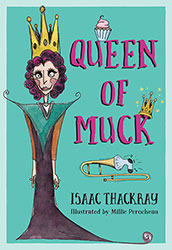 Imagine what would happen if Roald Dahl and David Walliams had a baby and Lewis Carroll came to babysit sometimes?
There's a growing noise on the children's chapter book scene and it's all coming from the direction of Queen of Muck – the exciting and hilarious debut release from Auckland-based writer Isaac Thackray.
It begins with two sisters, Lucy and Lily, who are desperate to find their missing Granddad.
But first they must survive a great and unusual adventure filled with brutes in nail-polish, a strange bookshop, a children-eating beast, a very bad orchestra, flying chunks of cupcake, a talking fox and swords, sneak-walking along with a wickedly entertaining baddie who has a lot to say for herself and a rather weak stomach.
Reading age: 7 to 11 years
RRP: Paperback NZ$25.00
Published in New Zealand by Mary Egan Publishing