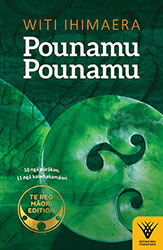 Witi Ihimaera's first published book — Pounamu Pounamu — translated into te reo Māori. Published in collaboration with Kotahi Rau Pukapuka.
Pounamu Pounamu is classic Ihimaera and also classic New Zealand literature. First published in 1972, it was his first book, which as he says in his new introduction 'fulfilled a childhood vow: to write about Maori using his own self and home place'. The vivid stories in this collection not only explore but also celebrate what it is to be a New Zealander, and they do so from a lively Maori perspective.
The seeds of Ihimaera's later works were first sown in this ground-breaking collection: The Whale Rider in his story 'The Whale'; The Rope of Man in 'Tangi'; and the character of Simeon from Bulibasha, King of the Gypsies in 'One Summer Morning'. The book also covers the themes of aroha (love), whanaungatanga (kinship) and manaakitanga (supporting each other), which are so integral to Ihimaera's work.
E rima tekau tau ki muri, ka puta mai a 'Pounamu Pounamu' hei kai mā te ao pānui reo Pākehā. Ko te whakataunga a ngā mana mātauranga o Aotearoa o taua wā, he pukapuka tēnei mā ngā tamariki i ngā kura o te motu whānui.
Kua huri te ao, kua hipa te wā, ko tēnei a 'Pounamu Pounamu' e horahia nei hei hākari mā te kaipānui reo Māori, ko ia rā pea te mokopuna a te kaipānui reo Pākehā o mua.
Ka pēhea te kawe i te wairua o tēnei kohinga kōrero e rangiwhāwhā nei te pānuitia, kia rangona tonutia ai te kounga o te kupu Pākehā? Me kawe tonu i te pukuhohe o He Kēmu Kāri, i te ngau mamae o Tangi, i te hōhonu o te aroha o Te Tamaiti.
Kua whakautua taua karanga e ngā kaiwhakawhiti reo Māori tekau mā tahi i noho rā hei pia i Te Panekiretanga o te Reo me ngā Kura Reo. He mea hōmiromiro ā rātou whakamāoritanga e te kāhui hihira, e Mākoha Gardiner rātou ko Pānia Papa, ko Hēni Jacob, ko Stephanie Tibble. Kei roto nei ngā hua o tā ngā kāhui nei whakaheke tōtā, e kitea ai, e rangona ai hoki te puāwaitanga o te reo Māori me ngā reo ā-iwi i roto i ngā tau.
Kei te tū rangatira tonu ngā kupu i rere mai ai i te pene a Witi Ihimaera, nāna te huarahi i para hei whai mā te kaituhi kaupapa Māori. Me mihi, ka tika.
Ko Kotahi Rau Pukapuka te waka. Ko te pae tawhiti, kia 100 ngā pukapuka reo Māori ka pae ki uta. Ko te whāinga, kia puāwai te aroha ki te reo mā te rau pukapuka. Tēnei mātou e pōhiri ana i a Penguin Random House hei hoa whakatere, hei hoa whakatutuki i ngā wawata o te hunga e ngākaunui ana ki te reo Māori.
Categories: Biographies, History.
Reading Age: YA to Adult
RRP: Paperback NZ$30
Published in NZ by Penguin Random House New Zealand