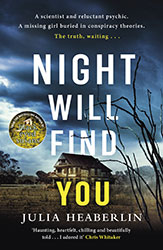 The spine-tingling new thriller from the bestselling author of Black-Eyed Susans
Sunday Times bestselling author, Julia Heaberlin, returns with a sharply observed psychological thriller about a woman's involvement on a missing child case.
Since saving a boy's life by making an impossible prediction aged ten, Vivvy Bouchet has been in a life-long battle between the voices in her head and the science she loves.
Now a brilliant young astrophysicist, she just wants to concentrate on her career. But the boy she saved, now a cop, believes she is psychic. He begs her to help solve a high profile cold case.
When a popular conspiracy theorist podcaster finds out about her involvement, he spews conspiracy theories about the case. With her career and the people she loves on the line, Vivvy must fight back.
Categories: Adult Fiction, Crime & mystery
Categories: Early Learners, Picture-Books, New Zealand Children's Books
Reading Age: 17 years to Adult

RRP: Paperback  NZ$37.00
Published in NZ by Penguin Random House New Zealand