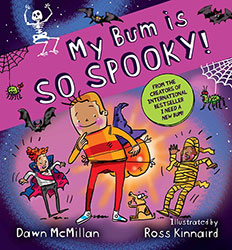 Wait for the squeals, the shouts and the cries
When everyone sees my … SPOOK-TACULAR BUM!
Halloween is a scary time of year but when bestselling team Dawn McMillan and Ross Kinnaird get in on the act, the fun takes over from the fright. Join the hero of the international hit New Bum! series as his Halloween costume plans take an hilarious turn! With a special pumpkin uniform around his middle, Red Pants Boy has what it takes to make Trick or Treat a crazy experience for all. And conspiring with his vampire-costumed cousins, he has a surprise in store for the family and neighbours at the end of the night — quite a ghostly surprise!
Categories: Early Learners, Picture-Books, New Zealand Children's Books
Reading Age: 4 to 8 years

RRP: Paperback picture-book NZ$19.99
Published in NZ by Oratia Media