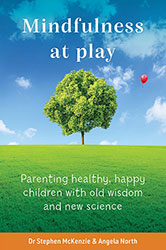 Parenting healthy, happy children with old wisdom and new science.
Mindfulness at Play was written by a mindfulness expert and university lecturer, a psychologist and play therapist. (both are parents) to help parents and young people recognise and expand the practice of mindfulness in their lives, as well as recognise and respond to whatever is getting in its way. It introduces mindfulness and play-based training exercises and activities, as well as evidence-based mindfulness knowledge.
About the authors:
Dr Stephen McKenzie a Senior Lecturer in Psychology at the University of Melbourne.
Angela North is a psychologist with 30 years' experience working with children, adolescents and their families. Employing play therapy, which is effective at treating a range of emotional and behavioral problems.
Categories: Mindfulness, Health & Nutrition, Non Fiction, Self-Help.
Reading Age: Adult

RRP: Paperback NZ$34.99
Published in NZ by Exisle Publishing.