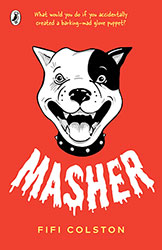 What would you do if you accidentally created a barking-mad glove puppet, with sharp teeth, a fierce attitude and an unpredictable mouth?
A boy and a fast-talking terrier glove puppet form a hilarious double act in this warm and funny illustrated novel for readers eight years and older.
Twelve-year-old Freddie Foxworthy just wants to do arts and crafts. He finds them a lot easier to deal with than his peers, and far more rewarding. His latest project is to create the perfect glove puppet from papier-mache. But when ashes from his metalhead neighbour's deceased bull terrier get into the mix, he finds he has accidentally made a growling puppet with an unpredictable mouth!
Freddie has an overload of mysteries to solve – who is to blame for the late Masher's death? Was Masher responsible for the disappearance of a neighbourhood cat? And, most of all, is Masher actually for real? Surely Freddie couldn't be causing all this chaos himself?
Masher is acclaimed author, illustrator and arts-and-crafts guru Fifi Colston's warm and funny novel about animal companions, imaginary friends, perceived enemies, and finding your happy place.
No dogs or papier-mache were harmed in the making of this book.
Reading Age: 9 to 13 years

RRP: Paperback NZ$18.99
A Puffin Book published in NZ by Penguin Random House New Zealand