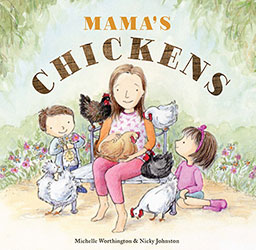 Award winning author uses backyard chickens to give us a child's-eye view of early-onset dementia. As Mama loves and cares for her chickens, her kids learn lessons about disability and acceptance. Children will relate to the endearing chickens, while the author uses her own experience to depict early-onset dementia in a realistic but age-appropriate way.
Dementia doesn't only affect the elderly; this story shines a supportive, much-needed light on a reality many families face
Reading Age: 4 to 6  years

RRP: Hardcover picture book NZ$24.99
Imprint EK Books – Exisle Publishing.