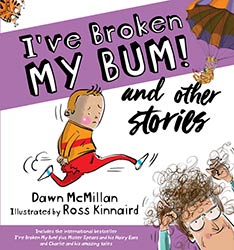 The laugh-a-lot team of Dawn McMillan and Ross Kinnaird brings three of their best stories together in this volume of funny and fantastical characters!
Included are I've Broken my Bum! — Is glue the right solution to put a broken bum back together?
Mister Spears and his Hairy Ears — Will corks and a helmet really stop Mister Spears' ear hair growing?
Charlie and his amazing tales — Did Charlie the dog seriously do a parachute jump?
A great value edition to get the kids through lockdowns and holidays.
Reading Age: 4 to 8 years
RRP: Picture book paperback NZ$29.99
Published by Oratia Books