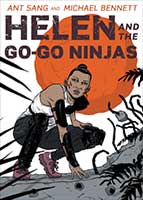 One of New Zealand's best known comic artists and an acclaimed film writer have teamed up to produce this electrifying sci-fi novel.
Storyline – Kidnapped by time-travelling ninjas, Helen is thrust into the year 2355 — a ruined future with roving gangs and 'Peace Balls', giant humming devices that enslave and control people's minds.
The Go-Go Ninjas have one goal — to destroy the Peace Balls. They believe that Helen knows how. Can Helen use her knowledge of the past to help them save the future?
Reading age: 13 years to adult.
RRP:  Paperback NZ$30.00
Publisher: Penguin Random House New Zealand.