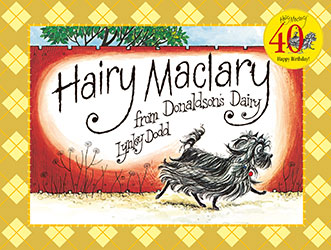 Hairy Maclary is 40! To celebrate the raggedy rascal's birthday, this is a very special upsized hardback edition of Lynley Dodd's iconic first Hairy Maclary story.
This re-released first story introduces the famous Hairy Maclary from Donaldson's Dairy and his canine gang.
Out of the gate
and off for a walk
went Hairy Maclary
from Donaldson's Dairy
Hairy Maclary's friends join him for a walk until, with a sudden yowl, a wail and a howl, they all run off.
What could have caused such a scatter of paws?
Read all the Hairy Maclary and Friends books by Lynley Dodd!  www.hairymaclary.com
Categories: Early Learners, Picture-Books, New Zealand Children's Books
Reading Age: 4 to 8 years

RRP: Hardback picture-book NZ$19.99
Imprint: Picture Puffin and published in NZ by Penguin Random House New Zealand.