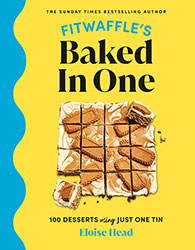 From The Sunday Times Bestselling Author
100 Desserts using just one tin
Social media sensation Fitwaffle (7 million followers), author of the bestselling Baking It Easy, makes quick and easy cakes, cookies, brownies and cheesecakes using just one tin.
Star baker Fitwaffle (7 million followers) brings you 100 easy bakes that can all be made in the same tin.
I'm Eloise, known online as Fitwaffle, and I've created 100 delicious recipes using just one tin. I've included the most popular bakes and no-bakes from my social media, as well as brand-new ones that I know you'll love.
There are lots of recipes with less than 5 ingredients, such as Red Velvet Rolls and Peanut Butter White Chocolate Cookie Bars, as well as showstopping creations to wow your friends and family, including Unicorn Fudge and my epic 6-Layer Brownies. I've also created some seasonal bakes for special occasions – but you'll want to make my Mini Egg Cheesecake Bars all year round!
Teachers the No-Bake section is great to do with the kids. Also jazz up that bag of mini Easter eggs and make Easter Egg Chocolate Bark they'll love it!Categories:
Categories: Food & drink
Reading Age: 10 years and upwards

RRP: Hardback  NZ$50.00
Imprint Ebury Press published in NZ by Penguin Random House New Zealand