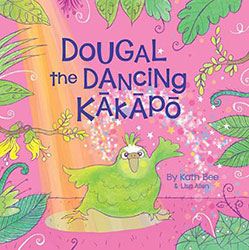 Dougal the Kakapo just loves to dance. From hip-hop to tango; ballet to swing, as soon as the music starts, Dougal just can't stop his feet from joining in.
Join Dougal as he shimmies, pirouettes and waltzes right across the pages of this book and into your heart.
Reading Age: 2 to 6 years

RRP: Paperback Picturebook NZ$21.99
Published by Bateman Books NZ.