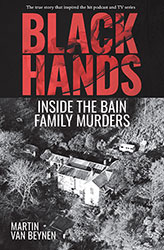 A gripping account of New Zealand's most controversial criminal case, from Martin van Beynen, the award-winning journalist behind the Black Hands podcast.
This is the story of a mass-murder that divided a nation.
It began in a rickety old house on a cold June morning in 1994, where five members of a seemingly ordinary New Zealand family were gunned down.There were two suspects. One lay dead from a single bullet to the head. The other was the only survivor: David Bain. Since then, the country has asked: Who killed the Bain family? David, or his father Robin? And why? Award-winning journalist Martin van Beynen has covered the Bain story closely for decades. His 2017 Stuff podcast, Black Hands – based on the manuscript for this book – topped the charts in New Zealand and around the world and has been downloaded more than 5 million times. Now, his book brings the story completely up to date: exploring the case from start to finish, picking through evidence old and new, plumbing the mysteries and motives, interviewing never-before-spoken-to witnesses and guiding readers through the complex police investigation and court cases, seeking to finally answer the question: Who was the killer? Black Hands is a riveting read from the first word to the last, by a skilled writer who knows his subject inside out.
Recommended Reading age: 18yrs+
RRP: Paperback NZ$38.00
Published in NZ by Penguin Random House New Zealand