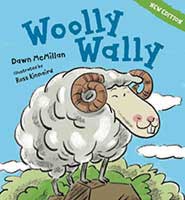 A flash new edition of NZ's farmyard favourite.
Everyone knows that rams think they're the top of the flock, but reality is sometimes a little different…
Wally is the sheep supreme, the master of his flock, proud to be the handsome head of his faithful ewes until he and his flock have a date with the shearing shed.
What will Wally and his ewes learn once they have lost their fine fleeces?
Originally published in 2006, Woolly Wally is now back in a modernized design that blends fun with a universal moral for young readers.
Reading age: 4 to 6 years.
RRP: Picture book format, card cover, NZ$19.99
Publisher: Oratia Books – Oratia Media NZ.