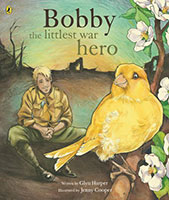 Note 2018 is the 100th Anniversary marking the end of WW1 so this is a must for all Primary School Libraries.
War historian Glyn Harper's brand new story about a band of tunnellers in the First World War, and the tiny canary who helped them survive, with heart-warming illustrations by Jenny Cooper.
Bobby is a tiny canary. His best friend is Jack, a soldier in one of the tunnelling companies of the Royal Engineers operating in the 1st World War. Together they go deep into the tunnels under no-man's-land. Jack's job is to dig, while Bobby's job is to warn the men to get out quickly when there's dangerous gas. Bobby's warnings save the tunnellers' lives again and again.
But Jack worries that it's a hard life for a little bird. Will Bobby ever be free to fly again?
Reading Age: 7 to 10 years
RRP: Paperback NZ$19.99
Publisher: Penguin Random House New Zealand.