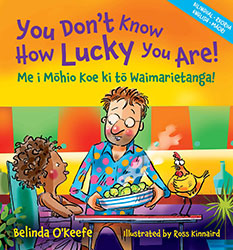 Bilingual.
In this beguiling picture book, Christchurch author Belinda O'Keefe joins bestselling illustrator Ross Kinnaird for a tale that connects young readers with the experience of their grandparents' generation.
Accident prone Izzy is consoled and then distracted by Great Uncle Arthur's tales of the trials he endured when he was a boy. Whenever she complained of her woes he starts every story with "You don't know how lucky you are!" As Uncle Arthur's stories get wilder she begins to wonder whether he is exaggerating about these adventures and in the end she manages to have the last laugh on him!
Categories: Bilingual, In Maori and English, Early Learners, Picture-Books, New Zealand Children's Books.
Reading Age: 4 to 8 years

RRP: Paperback, bilingual picture-book NZ$21.00
Published in NZ by Oratia Books