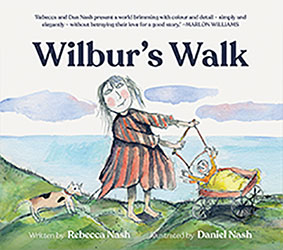 Wilbur and his Mama walk Wally dog by the sea. As Wally chases the pinecone and Wilbur's buggy bounces, the birds begin to appear, firstly chattering and chirping and then gossiping and philosophising.
Author Rebecca Nash wrote the story when her daughter was a toddler.
Reading Age 5 to 7 and can be read to 2 to 7 year olds.
RRP: Hardback picturebook NZ$25.00
Published by Mary Egan Publishing