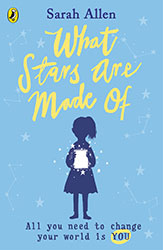 All you need to change your world is YOU!
An astonishingly bold and moving middle-grade debut about family, friendship and how it's OK to be different.
Libby wants to be a scientist when she grows up, just like her hero, the underrated astronomer Cecilia Payne. She'd also do anything for her family – and when her beloved big sister Nonny is in trouble, Libby comes up with the perfect plan to help her, and at the same time remind the world what stars are made of.
Reading Age: 11 to 16 years
RRP: Paperback NZ$17.99
Published by Penguin Random House New Zealand