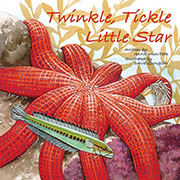 Anne Hunter's playful and delightful rhymes along with Dave Gunson's superb illustrations, perfectly capture the unique characteristics of a range of creatures and plant life that young children commonly encounter when exploring the New Zealand seashore.
Rhyming verse delightfully details some of the special features of triplefins, hermit crabs, scallops, jellyfish, sea anemonies, seaweed, black-backed gulls, paddle crabs, paua, katipo, sponges and starfish.
This entertaining book is intended to be read aloud and children will be fascinated to learn more about the wild life on the seashore so they can enjoy exploring when visiting the beach. There is a fascinating facts section to supplement the verse at the back of the book.
Reading Age: 3 to 6 years
RRP: Picture Book format glossy cover NZ$24.99
Published by New Holland Publishers New Zealand