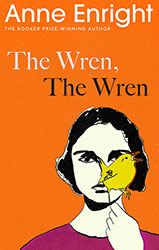 A contemporary novel of daughterhood and motherhood, from the Booker Prize-winning Irish author.
Carmel had been alone all her life. The baby knew this. They looked at each other, and all of time was there. The baby knew how vast her mother's loneliness had been.
Nell – funny, brave and so much loved – is a young woman with adventure on her mind. As she sets out into the world, she finds her family history hard to escape. For her mother, Carmel, Nell's leaving home opens a space in her heart, where the turmoil of a lifetime begins to churn. And across the generations falls the long shadow of Carmel's famous father, an Irish poet of beautiful words and brutal actions.
This is a meditation on love: spiritual, romantic, darkly sexual or genetic. A multi-generational novel that traces the inheritance not just of trauma but also of wonder, it is a testament to the glorious resilience of women in the face of promises false and true. Above all, it is an exploration of the love between mother and daughter – sometimes fierce, often painful, but always transcendent.
Categories: Contemporary fiction, general & literary fiction

Reading Age: Adult

RRP: Paperback NZ$37.00
Imprint: Jonathan Cape. Published in NZ by Penguin Random House New Zealand.