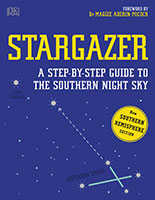 A Step-by-step Guide to the Southern Night Sky
Introducing an exciting new approach to stargazing in the southern hemisphere, this book features step-by-step routes to help you easily identify key constellations across the southern night sky.
Stargazer takes you through constellations one-by-one, linking them together as you progress using easy-to-follow star routes that guide you across the celestial sphere. Adapted carefully for the southern hemisphere, this book is perfect for budding astronomers learning to navigate our expansive and fascinating universe. Complete with practice exercises, stunning colour photography of nebulas and galaxies, and amazing facts about our solar system and beyond, this book is a reliable and exciting new guide to our skies.
Reading Age: 10 years to Adult
RRP: Semi-Hardback with cleanable cover NZ$37.00
Published in NZ by Penguin Random House New Zealand.