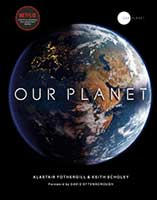 Companion to the groundbreaking NETFLIX original documentary series narrated by Sir David Attenborough, OUR PLANET presents a new view of the world, using stunning photographic images and graphics to reveal animal behaviour and environmental change that we've never seen before.
THIS IS THE OFFICAL COMPANION TO THE GROUNDBREAKING NEW NETFLIX DOCUMENTARY SERIES
'The future of all life on this earth depends on our willingness to take action now' – David Attenborough
With a foreword by Sir David Attenborough, breathtakingly beautiful still photography, specially commissioned maps and graphics, and compelling text expanding on the remarkable TV stories and giving the reader a depth of information that is impossible on screen.
Featuring some of the world's rarest creatures and previously unseen parts of the Earth—from deep oceans to remote forests to ice caps—Our Planet 'the book' takes nature-lovers deep into the science of our natural world.
Revealing the most amazing sights on Earth in unprecedented ways, alongside stories of the ways humans are affecting the world's ecosystems—from the wildebeest migrations in Africa to the penguin colonies of Antarctica—this book captures in one concise narrative a fundamental message:
What we do in the next twenty years will determine the future of not just the natural world but humanity itself.
Reading Age 12 years to Adult
RRP: Hardcover coffee table size with many very impressive double page images NZ$55.00
Published in NZ by Penguin Random House New Zealand.