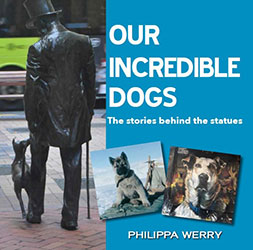 Dogs have played a central role in the lives of New Zealanders, from working farm dogs, to police dogs, loyal companions, mascots, little heroes and fictional dogs that have become part of our culture.
In this book we look at the dogs that have been memorialised in public statues that have become community icons. Travelling the country we trace the statues and the stories behind them to show how dogs play an important role as man's best friend.
Featuring statues of dogs such as:
George the Jack Russell who saved children from an attack by two pit bulls
Legendary cattle rustler James MacKenzie and his famous dog, Friday
The father of Wellington John Plimmer and his dog Fritz
Sue the collie sheepdog at Taieri recognising the work of farm dogs
The dogs from Hairy Maclary
The Dog from Footrot Flats
Philippa Werry is the author of Anzac Day, shortlisted for both the NZ Post Book Awards and the LIANZA awards in 2014. Her books Waitangi Day and Armistice Day were named as Storylines Notable Books in 2016 and her book "The New Zealand Wars" was a finalist in the NZ Book awards for children and young adults.
Philippa writes fiction, non-fiction, poetry and plays and is a regular visitor to schools and libraries around New Zealand.
Reading Age: 8 to 15 years
RRP: Hardcover NZ$24.99
Published by New Holland Publishers New Zealand