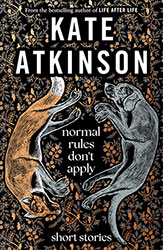 A dazzling collection of short stories from the bestselling author of Life After Life.
From the Number One bestselling author of Shrines of Gaiety and Life After Life, a gemlike collection of unforgettable short stories in which nothing is quite what it seems…
The first story collection from Kate Atkinson in twenty years, Normal Rules Don't Apply is a dazzling array of eleven interconnected tales from the bestselling author of Shrines of Gaiety and Life After Life
In this first full collection since Not the End of the World, we meet a queen who makes a bargain she cannot keep; a secretary who watches over the life she has just left; a man whose luck changes when a horse speaks to him.
With clockwork intricacy, inventiveness and sharp social observation, Kate Atkinson conjures a feast for the imagination, a constantly changing multiverse in which nothing is quite as it seems.
Categories: Short Stories and Anthologies.
Reading Age: Y.A. and Adult
RRP: Paperback NZ$37.00
Imprint Doubleday published 29th August 2023 in NZ by Penguin Random House New Zealand