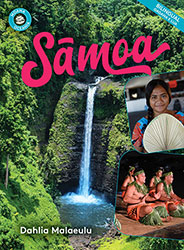 Bilingual and aimed at readers 8+ but valuable for anyone with an interest in our Pacific 'āiga (family), this is one of two inaugural books in the Moana Oceania series created by Oratia Books' Editorial Director, Carolyn Lagahetau.
Dahlia Malaeulu provides a comprehensive overview of life in Sāmoa for readers in New Zealand, with text in Gagana Samoa and English. Samoan children can see themselves reflected in these books, and all readers can learn about the islands' culture, language, daily life, history, environment and sport.
Moana Oceania: Sāmoa explains the fundamental values of Fa'asāmoa (Samoan life), including connection to 'āiga (family), nu'u (village), land and religion. It shows how families in Sāmoa live, how they are educated, and how they celebrate and commemorate through dance, music and festivals — while exploring how Samoans in Aotearoa maintain and adapt their culture.
With colour photographs throughout, the book contains pull-out boxes of information, making the text easy to access.
Category: Children's
Bilingual, Bilingual Gagana Samoa and English.
Reading Age: 8+ years

RRP: Paperback NZ$29.99
Published in NZ by Oratia Books