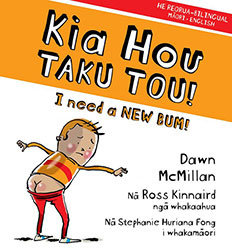 Translated by Stephanie Huriana Fong

To mark ten years since the first publication of I Need a New Bum!, and Te Wiki o te Reo Māori 2022, Oratia is delighted to present this children's favourite in a new bilingual edition.
All of the colourful and active main text is in Māori, following our hero as he searches for a tou hou/new bum, after finding that his one has a crack.
'Subtitles' in English run at the bottom of the page to help readers of all ages to understand and learn.
After editions in Chinese, Italian, Korean and Portuguese, it's a pleasure to 'bring the bum home' into Stephanie Fong's gorgeous rhyming reo.
Reading Age: 3 to 7 years

Paperback Picture Book RRP: NZ$19.99
Oratia Books