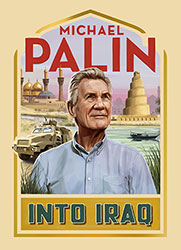 A fascinating and rare insight into the history and culture of Iraq, by Britain's best-loved travel writer.
In March 2022, former Monty Python stalwart and intrepid globetrotter Michael Palin journeyed along the River Tigris and into Iraq to gain a glimpse of life in an area of the world that can claim to be the cradle of civilisation, that has seen the rise and fall of extraordinary and rich cultures, but that over the past two decades has witnessed turmoil and appalling bloodshed.
Now he shares the journal he meticulously kept during his trip, in which he describes a country where the past and the present are constantly intermixed. One minute he is exploring the ruins of Babylon, one of the world's most ancient cities. The next he is scanning the plumes of smoke rising from burn-off towers in the vast oilfields outside Basra or surveying the still war-torn landscape around Tikrit or talking to survivors of Saddam Hussein's campaign against the Marsh Arabs of southern Iraq.
Peppered throughout with his trademark warmth and wry humour, and illustrated with beautiful colour photographs throughout, the journal offers a wonderful and rare insight into Iraq in all its extraordinary variety.
Categories: History, Travel
Reading Age: Young adult to adult

RRP: Hardback  format NZ$40.00
Published in NZ by Penguin Random House New Zealand