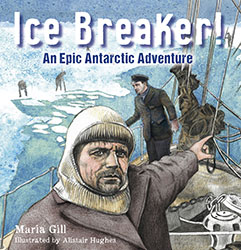 The day war broke out on the 8th August 1914, 'Endurance' slipped its London mooring and
sailed for South America. The crew were about to make history – traversing the Antarctic
continent for the first time. But instead the 'Endurance' ship became stuck in the ice and later
sunk. New Zealander Captain Frank Worsley together with famous expedition leader Sir Ernest
Shackleton guided the crew along icebergs, across a wild and dangerous sea to two SubAntarctic Islands.
The expedition had become a fight for survival.
This is the true nail-biting story of how the exceptional sailing and navigation skills of Captain
Frank Worsley and the legendary leadership skills of Sir Ernest Shackleton saved all 28 men.
Combining Maria Gill's extensive research and action-packed writing with Alistair Hughes
stunning watercolour illustrations, this captivating creative non-fiction story tells the epic polar
survival journey.
Reading Age: 7 to 10 years
Hardcover Pictorial Childeren's Books NZ $29.99
Published by New Holland Publishers