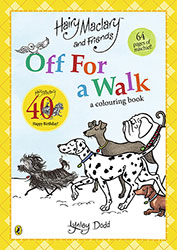 Meet Hairy Maclary and all the gang and explore his world in this delightful colouring book with 64 pages to colour!
Explore the world of Hairy Maclary and his friends with 64 pages of rollicking, frolicking colouring fun!
Hairy Maclary is always looking for mischief! Join the raggedy rascal and his gang as they gallop about, sniffing and snooping and bothering cats – until they meet their match.
Hairy Maclary and Friends by Lynley Dodd is one of the world's best known and best loved brands for children, and this colouring book captures all the delightful humour of the stories, with illustrations of Hairy Maclary and his gang – Hercules Morse, Bottomley Potts, Muffin McLay, Bitzer Maloney, Schnitzel von Krumm as well as tough old Scarface Claw, sneaky Slinky Malinki and pittery pattery Zachary Quack.
Reading Age: 3 to 6 years

RRP: Paperback colouring book NZ$9.99
A Puffin Book Published in NZ by Penguin Random House New Zealand.